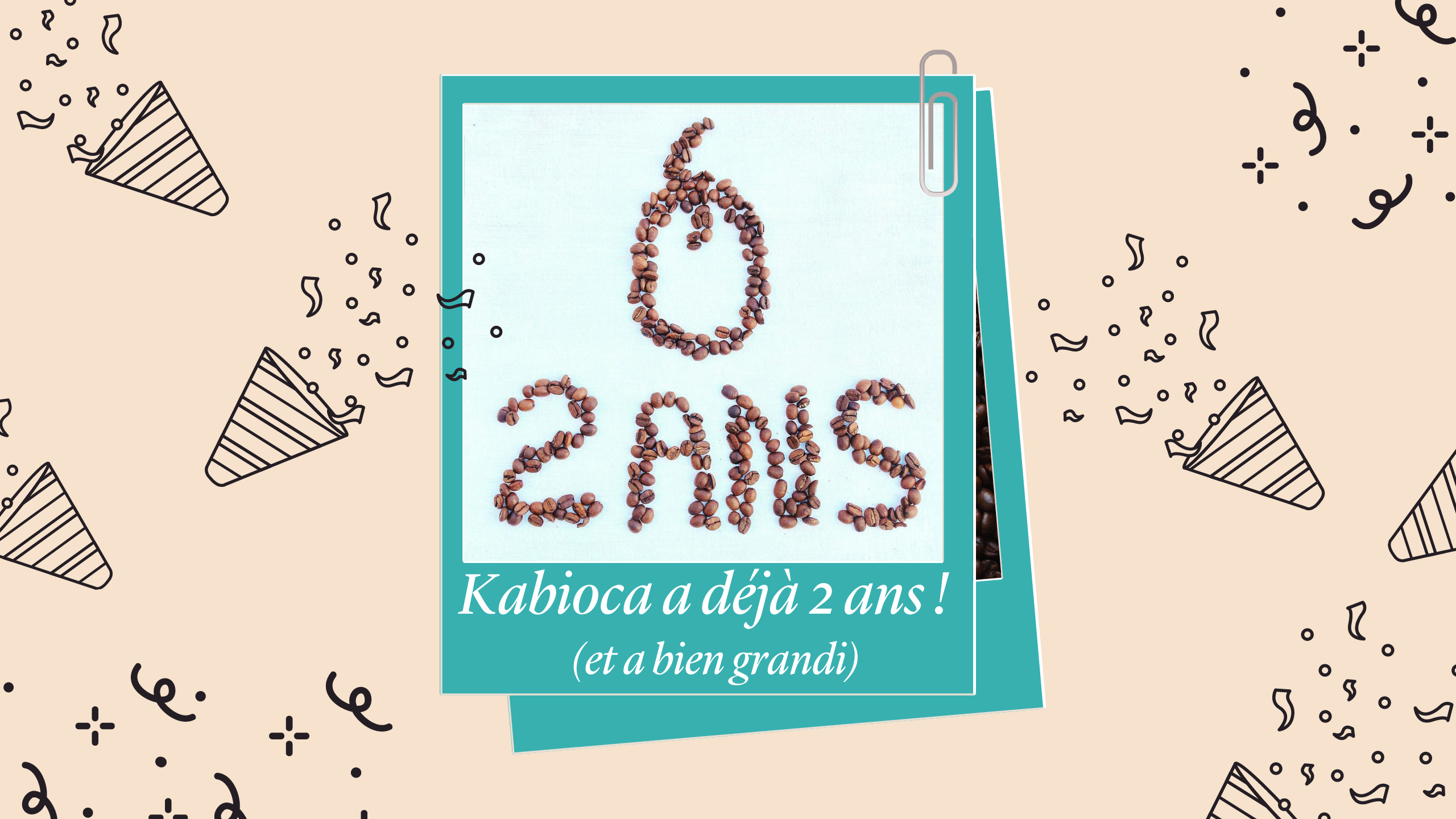 The Kabioca coffee capsule is already 2 years old!
On August 19, 2019, exactly two years ago, the first Kabioca coffee capsule was born.
Big coffee lovers on a daily basis, but concerned about the impact that our consumption has on the environment, we wanted to offer a sustainable and responsible alternative: an exceptional coffee that you would enjoy tasting, organic and ethical.
And that's how the Kabioca adventure started.
Since then, we have already sold more than 800 coffee capsules worldwide, or more than 000 tons of aluminum saved.
On the occasion of our anniversary, we invite you to (re) discover together the retrospective of our journey over the past 2 years.
AUGUST 2019:
BIRTH OF THE KABIOCA COFFEE CAPSULE
Because the capsules represent today one of the most common ways of consuming coffee in France, but also one of the most polluting, we decided to first offer a sustainable alternative to Nespresso® aluminum capsules. . After a year and a half of research and development, our natural, organic and eco-responsible Nespresso® compatible coffee capsule see the day.
SEPTEMBER 2019:


LAUNCH OF OUR E-COMMERCE SITE
From the launch of our brand, one of our priorities was to make our coffee capsule accessible to as many people as possible, so that more responsible consumption is no longer a constraint but a choice. In September 2019, it's done: our capsules are now delivered directly to your home.
NOVEMBER 2019:


A 100/100 ON YUKA
Because we know that it is sometimes complicated to navigate among the multitude of offers on the coffee market, we are committed to being as transparent as possible about the composition of our coffee capsules. Our organic coffee capsules are recognized as non-GMO by Yuka and obtain a score of 100/100 on the application.
DECEMBER 2019:


THE KABIOCA COFFEE CAPSULE IS EXPORTED



Because the French are not the only ones to consume coffee in the world, and because we want to make our coffee accessible to as many people as possible, we have also chosen to offer our coffee to international partners. Kabioca is now available for the first time outside our borders, in the Czech Republic, thanks to our importing partner Fairmade.
Today we deliver to over seven countries.
JUNE 2020:




BLOG LAUNCH



At Kabioca, we are above all passionate about coffee. It is therefore natural that we would like to share with you our knowledge on the subject as well as our passion for the world of coffee. And then the Covid appeared and the lockdowns followed one another, thus reducing our opportunities to discuss with you. We took advantage of this time to set up a section News on our website, where we have regularly shared new articles on coffee and responsible consumption with you.
OCTOBER 2020:




THE MICROPHONE



During the Culture Entreprises Fair near Nantes, RCA Radio offered us the opportunity to share our accomplishments, the history of Kabioca as well as our future projects with their listeners. The interview can be found here (from 1:17).
The magazine The World of Fine Food gives appointment each year in October to the professionals of the delicatessen in the form of a trade show: The Epicures. Different prizes are awarded by a jury made up of great chefs, fine grocers and journalists, rewarding the best French artisan food products from among hundreds of pre-selected products. Despite the health context, and faithful to its mission, Le Monde de l'Epicerie Fine maintains the 2020 edition, however in digital form. Our Kabioca espresso coffee capsule natural and vegetable, 100% Arabica from South America, slightly roasted to guarantee the richness of the aromas, wins Epicure de Bronze 2020.
Our natural coffee capsule, produced with more than 95% renewable energy and raw materials, represents a major step towards consumption with less impact on the environment. It is made of plant materials and contains coffee from organic farming (without the use of chemical pesticides). But we didn't want to stop there. This is why since the end of 2020, Kabioca has been committed to nature and sustainable development, by sourcing our coffee beans from certified farms. Rainforest Alliance. This alliance represents the project of an evolution towards sustainability based on transparency and the sharing of responsibilities between producers, foresters and companies. It is this vision that Kabioca supports and shares by committing to this label. At Kabioca, we believe that we are taking a new step in our sustainable development approach based on continuous improvement to achieve these objectives and give full meaning to our eco-responsible brand identity.
Our initial ideal was simple: to offer coffee that is good, organic and respectful of the environment. Today, our ambition goes further: we would like to offer an everyday coffee that represents both a moment of pleasure and a gesture for the world of tomorrow. Because for some of you, a box of 50 capsules was a little too bulky for a daily coffee, we have decided to launch in addition to our packs of 50 daily packs of 20, still in a box. 100% recyclable cardboard made from paper sourced from sustainably managed forests. So much care and attention for coffee and for the planet, but in a smaller format.
A BIG THANK-YOU !
Because it is also thanks to you that we have come to this, we would like to thank you for these two years of loyalty. On this occasion, we offer you to win up to 6 months of Nespresso® compatible coffee capsules.
We look forward to seeing you every day to extend this collective adventure and continue our mission for a better world… with exceptional coffee.
Kabioca, pure and responsible pleasure